Amazon, which once started as a bookseller in 1994, eventually became a conglomerate known for selling "everything from A to Z". Since it is Amazon Prime Day, we thought it would be wonderful to give sneak peek into the life of a Deaf Amazon employee.
Amazon is a company that has hired many Deaf employees and often markets their accessibility as an employer. In 2022, Amazon started rolling out their Sign Language learning video stations at their sites to help be more inclusive to Deaf employees.
Introducing Kyra Gray: Deaf Amazon Employee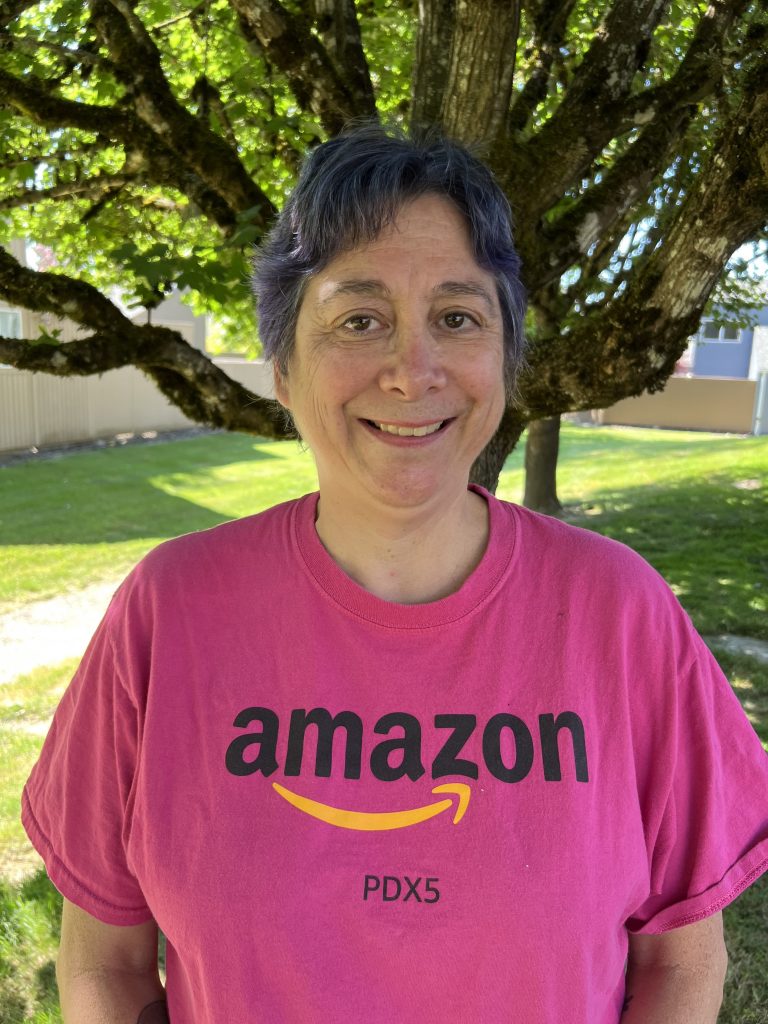 Q: Hi, Kyra. Could you please tell us a bit about yourself?
A: My name is Kyra Gray. I was born and raised in the Bay Area. I was mainstreamed all throughout elementary and high school, with the exception of going to a deaf oral school when I was around 2-3 years of age. I attended NTID, National Technical Institute for the Deaf, and didn't know sign language until I entered NTID, so it was a challenge for me.  I got married, had two hearing daughters, then got divorced. I then moved to Oregon in 1998 and graduated from Southern Oregon University with a Bachelor's in Criminology. Soon, I will be moving to Arizona and transferring to the Amazon site there.
Q: Tell us a little more about your role at Amazon. Is the experience different than other jobs you've had?
A: I am a Fulfillment Center associate and work full time. I have been there for almost 2 years.
There really isn't much of a difference from other jobs I've had in regards to accessibility and communication.
Q: How do you communicate with your coworkers and bosses?
A: Normally, I communicate by typing on the phone or using a whiteboard.
Q: What does a normal shift look like for you? What is the best and worst part of the job?
A: I scan boxes onto the pallets and build them up to 5 feet tall, then wrap them up.  Sometimes I load the trucks, but haven't done that in a while.
The worst part is when it's slow, I get restless and bored. But when it's busy, time goes by fast, that's the best part!
Q: Who is your role model you looked up to that inspired you to be the person you are today?
A: What comes to mind is Amelia Earhart, the first woman to fly solo across the Atlantic. I wrote a book report on her and was fascinated by her endeavor. It got me interested in traveling and exploring new places. My upcoming goals in the near future are to visit both Australia and Ireland and find out more about my family tree. I look forward to that!
Q: What is your superpower as an Amazon Deaf employee?
A: I can lip-read very well.
Q: Any funny or interesting story to share while working at Amazon?
A: I'm sure there are some funny stories but I don't hear them. (no pun intended 😏)
Q: Any advice to share to help hearing people understand and be more aware of Deaf employees, especially if they're considering hiring them at their own companies?
A: My advice would be to make sure they have paper and pencil. Look their way when speaking to them. If they have an interpreter, look at the Deaf person and not the interpreter.
Q: Any advice to share for Deaf people, if they want to know more about working for Amazon?
A: Work hard and show people that Deaf people can do anything they want to do. They can get promoted and recognized.
Thank you, Kyra, for your time during this interview!
Readers, hope you've enjoyed reading this post.
'Til next time, ta ta! 😄🤟🏻