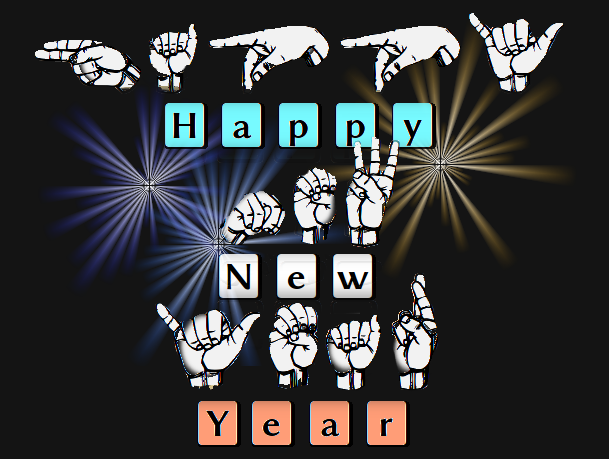 From us at Sign Language Blitz (SLB) we wish you a happy New Year. The start of a new year is always a time for looking at the past, celebrating the present, and planning the future. We'd like to do a little of each, and give you an update on the progress we're making at SLB.
The Past (2017-2019)
SLB was started in early 2017 as a small student project at Rensselaer Polytechnic Institute and Rochester Institute of Technology. We were able to develop the first few iterations of our platform and develop a few dozen lessons. In August of 2017 we released our first demo, and in October of 2018 we released an updated demo. In February of 2019 we opened our beta test.
SLB had gone through a few cycles of active development followed by periods of dormancy. It was started as a student project and now we're no longer students. We've graduated, some of us have gotten married, taken jobs, etc. However, over the last two years we've been encouraged by you, our users. We've received hundreds of feedback messages. Your response was overwhelmingly positive and has encouraged us immensly. Over 16,000 people have tried the demo, and over 500 of have signed up for the beta test so far. Several of you have even completed all of our currently available lessons in the beta. There's nothing more gratifying than to see SLB being used and enjoyed by you, our users! Thank you!
The Present
Over the next three months we are working on releasing Sign Language Blitz as a product. We're upgrading and adding a few features to improve usability and speed. So far we've been able to operate on a shoestring budget, however we have reached a point where we are limited in the amount of content we can have and the development of cool new features by limited funds. So in order to make the best possible platform, we need to polish what we currently have and move forward with a product.
We are ending the beta sign up on February 15th , 2020. For those of you using the beta you'll continue to have full access and provide feedback until April 15th, 2020.
We plan on releasing the software as a product on February 16th. Our pricing will be $6.50 per month with your first month free. Because we believe in the power of friends, each paid account will support a free buddy account.
The Future
Currently we have 28 lessons and a few hundred blitz cards. The biggest addition to the future is more content. We want to have 300 high quality lessons by the end of 2020. In addition, we will improve the quality of our study interface. There are many different improvements, but we've gotten a lot of requests for the following which are now planned for development:
Sign-by-sign english text captions to the videos during the review of the study item.
Multiple videos from different signers for the same blitz card to test recognition from a diverse group of signers
Test your ability to sign by using the camera on your computer or phone to record and directly compare your signs against the videos from the blitz card
There are several features under consideration as well (such as a moderated forum, video and an official phone app in the app store), which we are considering pursuing based on feedback. If you have any suggestions or ideas, let us know in the comments. We look forward to building the future with you!
About Sign Language Blitz
Our goal is to help friend and family of the Deaf community learn ASL. The best way to learn ASL is to engage in conversation with signers. SLB was designed as a tool that you can use when you're not able to interact with other signers, such as on a bus or before bedtime. We hope that it can help you in your journey to learn ASL. If you haven't already, try our demo to see how it works: