We contacted Diana Pryntz, Robert Tawney and Marta Tawney, co-founders of Deaf Refugee Advocacy (DRA), to learn more about how the organization started and what they do.
To summarize, DRA is a Rochester-based organization that helps Deaf refugees learn English, ASL, culture, and assimilate into the community while staying true to cultural and personal identities. They offer classes in literacy and citizenship, among others, and host a mentorship program.
Marta, Robert, and Diana decided to set up DRA after seeing the need for a program like this in Rochester, New York, which has a large Deaf community. The three of them got in touch with organizations in Buffalo and Syracuse to see what practices were already working. Fast forward, and today they run a successful and beneficial organization that helps people in need.
Read our interview with Diana below to find out more about the organization and the people that run it.
SLB: When and why did you start this organization? Were all three of you involved from the start?
I became curious if there were any deaf refugees [in Rochester] after reading in the news so much about the plight of refugees in general. I asked around and no one seemed to know anything so with the help of a friend and an online search engine, I discovered that Buffalo (Deaf Access Services) and Syracuse (Aurora of Central NY) both were helping deaf refugees in their area.

I wrote to them asking if they knew of any agency/organization in Rochester that was helping deaf refugees. One thing led to another and Rob Tawney's and his wife Marta Tawney's names came up. Rob, Marta, and I met to discuss this. As it turned out Rob and Marta had been helping a few deaf refugees for a few years. […] As they say, the rest is history.

We all agreed an organization was needed. We [officially] formed after many meetings with various groups including Deaf Access Services members, Aurora of Central NY members, Rochester Refugee Resettlement Services, Catholic Family Center, and some others. This all crystallized in May 2017.
SLB: How do you navigate the refugees' cultural identities while helping them get comfortable in Rochester?
We have been having many classes. We started with meeting at the library [once] every two weeks, to now meeting 3 times a week. Over time they have bonded with each other and with some of the volunteers. We often discuss respect for one another including our cultural identities.
SLB: Tell us a little about yourself!
I am deaf since birth, I grew up in NYC attending public schools without the assistance of interpreters; Graduated from NTID with my bachelors in Computer Science and masters in Instructional Technology; worked for a short time at Xerox and DuPont before becoming a computer science professor at NTID. Taught there until my first child was 18 months old.

Then I decided to stay home and raise my children. My husband and I ended up homeschooling them and did many things during this time as a family. One major project was to build our own passive solar geodesic dome that was off the grid on 100 acres south of Rochester. Our sons enjoyed many years of freedom to roam on that property. Fast forward in time, now I am a proud mother of four men and a grandmother of a little girl.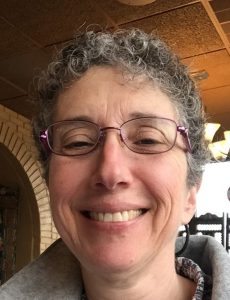 SLB: Do you have staff beyond yourself, Marta, and Rob, or do you work mostly with volunteers?
We are all volunteers. Currently we have over 90 volunteers on our list. Out of those, about 12 are heavily involved and another 5 to 10 are involved from time to time. The others less so.
SLB: How has DRA helped the Deaf community?
DRA has made a large impact on the Deaf Refugee community.

DRA has made a large impact on the Deaf Refugee community. They are becoming more proficient in ASL, more self-sufficient, and more confident.

We have received many comments from the medical personnel and from interpreters who have noticed positive changes.
SLB: What does a typical day of work look like?
For me, a typical day involves going to class to be available to the refugees during class time. They often have mail for me to review or have things to discuss with me or to let me know of appointments they have and wish [to have] assistance or advocacy.

After class, I usually have organizational matters to address, phone calls to make either as part of administrative planning or related to my advocacy work, and I often receive phone calls for and from refugees who need clarification or help with something. Sometimes it is a crisis. Other times, refugees call to touch base [or] share something with me. I spend at least 4 hours a day dealing with DRA matters.
SLB: How does language access impact these individuals?
[Access to language] makes a big difference in their lives. As they learn ASL and other educational topics, they become empowered.

It makes a big difference in their lives. As they learn ASL and other educational topics, they become empowered. They are on their way to independence in many aspects of their lives.
Our organization is only 1 ½ years old so we don't have any long term data but I can attest how much DRA has accomplished in that time frame. We are actively helping about 25 deaf refugees with education, financial assistance, citizenship, medical issues, housing issues, and relationship issues.
SLB: Any upcoming events that you're particularly excited about?
We have two very exciting projects. One is that we are planning a nationwide conference addressing deaf refugees. The other is a documentary on deaf refugees with a professional film maker.
If you'd like to learn more about (or volunteer with!) Deaf Refugee Advocacy, check out their website HERE.
Like share, and shoot us a message with post suggestions!
-Sign Language Blitz
Thank you for reading! CHECK US OUT on social media: