You may be double-checking to make sure you read that right.
You did.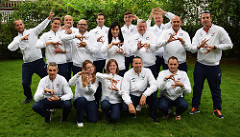 The Deaflympics are exactly what they sound like– world-wide athletic competitions for the Deaf. They follow a 4 year cycle like the Olympics, but aren't technically a part of the Paralympics or Olympics. So, while their most recent official name is similar, the Deaflympics is its own entity while still being recognized by the International Olympic Committee.
From the 0fficial website (click here to visit), some missions of the Deaflympics are:
"To supervise the organization of successful Summer and Winter Deaflympics.
To promote and contribute to the development of sport opportunities and competitions, from grass-root to elite level, for Deaf athletes.
To fully enforce a drug-free sport environment for all Deaf athletes in conjunction with the World Anti-Doping Agency (WADA).
To promote sports for Deaf athletes without discrimination for political, religious, economic, disability, gender or race reasons."
The first Deaflympics, then named the International Silent Games, was hosted in Paris in August of 1924. Their first Winter games was hosted in Austria in 1949. As of 2009, 104 countries had joined the International Committee of Sports for the Deaf (ICSD).
Their summer sports include:
Badmiton
Basketball
Volleyball
Football
Mountain biking
Golf
The entire winter sport lineup is as follows:
Curling
Skiing (Alpine and Cross-Country)
Hockey
Snowboarding
Keep an eye out for the upcoming Deaflympics as well as other Deaf sporting events, such as the World Deaf Curling Championships, held in Alberta, Canada in March of 2021.
Hope you enjoyed this post!
-Sign Language Blitz
Check us out on social media!
Featured photo: Creative Commons from Flickr.com
20170715_Deaflympics_B-Gaillien_020
Photos Offielles de la Delegation Freancaise – 23eme Deaflympics – Samsun (Turquie)